There's a good chance you spent an unusual amount of time at home the last couple years. And if you're like many people, that extra time has inspired you to freshen things up around the house. One quick and affordable way to liven up a room at home is a new coat of paint.
In this article, we'll highlight a few trending interior paint colors you can find at your local Nyberg's Ace to transform any space in your home—rooms, accent walls, cabinets, doors, and beyond.
Changing Trends
Thousands of household walls have gone white in recent years (or some variation of white). And while whites and greys remain a staple for many home painters, we've noticed new trends. It's been a stressful couple years, which could explain why many are now turning to warmer, more soothing colors that promote relaxation at home. Here are a few of our top picks from our favorite brands.
Chestertown Buff
If you're looking for warmth, check out Chestertown Buff from Benjamin Moore, ideal for well-lit bathrooms or kitchens. Chestertown Buff contrasts nicely with cooler hues, like the image below, but also works well with various shades of white.
Aegean Teal
This beautiful matte teal brings depth and tranquility to your home without sacrificing warmth. It's perfect for kitchen cabinets, doors, or entire rooms with lots of natural light. Aegean Teal also works wonderfully as a backdrop for your house plants.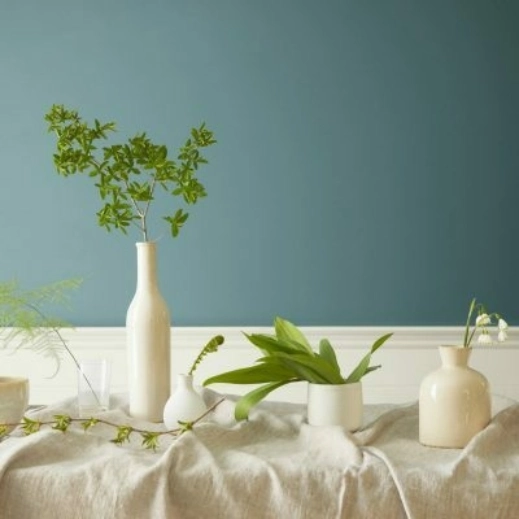 Atrium White
This subtle off-white captures gentle shades of warmth and light, almost like the sandstone of the Badlands. It's versatile enough for any interior, but especially darker spaces—like hallways or stairwells—that require a bit of extra warmth.
Weekend + True White
Weekend, from Magnolia Home, offers the same soothing ambience as Aegean Teal, but with deeper hues of navy and green. It contrasts wonderfully with True White and Garden Trowel for a high-contrast yet cohesive look.
Sometimes you don't need to paint an entire room to attain a fresh feel. If a room in your home is already grey or white, use a color like Weekend to spruce up a hutch, cabinets, or an accent wall.
Blackboard
If you're interested in a unique accent wall in your house (which is another interior trend), consider Blackboard from Magnolia Home. It's rich and bold without drawing too much attention to itself—and still provides the soothing experience many are seeking at home.
Get All Your Paint Supplies at Nyberg's Ace
These are just a few of our favorite interior paint colors—and there are many more. If you want to keep exploring, swing by one of our locations in Sioux Falls, where you'll find additional brands like Clark+Kensington and Amy Howard at Home.
Our specially-trained Paint Center staff is always happy to answer your questions and help you find the right color for your scenario—no matter what you're painting. In addition to a wide collectio
Let's Get Painting
If you're ready to tackle that painting project, we're here to help. Stop by your local Nyberg's Ace to get paint samples and all the supplies you need to get started.